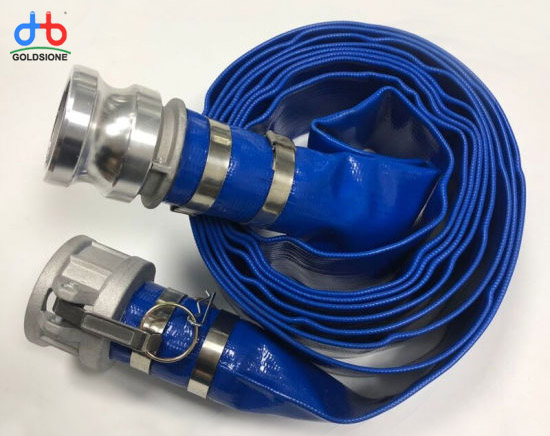 As a customer of PVC lay flat hose of our company,  whether you need it or not, you must understand that we not only produce lay flat hose, but also can supply the couplings. In the past, we usually just packed the hose and couplings together, and didn't install.
With the efforts of our production manager and workers, after many times of water seal pressure test of coupling, and careful analysis of hose ellipticity, installation clearance, etc., and continuous discussion of treatment methods, now we have solved the problem of couplings leakage perfectly.
Therefore, if you need, we will uniformly install the couplings for you, and ensure no water leakage. You can use it directly after you receive the goods.
PVC hose is manufactured with high tensile strength polyester fiber, which makes it one of the most dirable layflat hoses to be used in many fields. The PVC water hose that we currently supply can be divided into agricultural PVC layflat hose, mine PVC layflat hose, and industrial PVC layflat hose.
Our agricultural PVC layflat hose is reinforced with 3 ply polyester yarns. Since it is resistant to oils and many chemicals, this flat PVC hose can meet your requirements in agricultural application. Our Mine PVC water hose is made of premium quality materials, reinforced with two spiral plies. This type of PVC flat hose pipe is designed for long lasting service of heavy duty application, especially for mine industry. The industrial PVC layflat hose is acid & alkali resistant, anti-twist and environmentally friendly. The longest length of the PVC layflat hose roll is 100m, which can be used for long distance water transportation. The color and length of our PVC flexible hose can be customized.