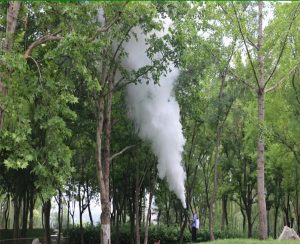 Mist sprayer is widely used in greenhouses, agriculture, forestry, orchards, grasslands, urban environmental protection, open-air crop fertilization, disinfection, and sterilization. Here are some common applications for mist sprayer.
Greenhouses and fruit trees – Such as corn, cotton, rice, wheat, tea, citrus and other crops insecticidal, sterilization.
Forest insecticidal – It can be used for forest tree insecticidal, quick effect, good effect, forest insecticidal tools of choice.
It can also be used for sanitation, epidemic prevention, and disinfection. Such as urban underground, garbage dumps, toilets, warehouses, stations, docks, airports, and other disinfection, sterilization.
Pulse Mist Sprayer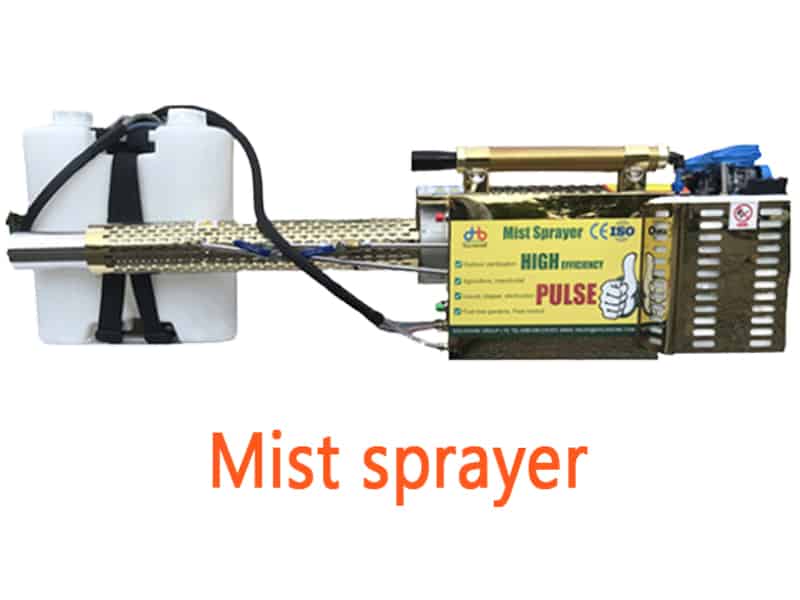 When mist sprayer works, the high-temperature and high-pressure airflow generated by the pulse engine (60 explosions per second) is ejected from the nozzle outlet at high speed. When the valve is opened, the pressure in the cartridge chamber (which is inflated 60 times per second by the engine) is pushed to the explosive tube and mixed with the high-temperature and high-speed airflow. Within 0 seconds, the explosive particles are smashed into micron particles and discharged into the air to cool and form a mist (smoke) which sprayers out at high speed from the nozzle and diffuses rapidly. When the controlled object touches the mist or smoke, it plays a role in prevention or treatment.
Mist Blower Sprayer (Wind-driven Mist Sprayer)
A wind-driven mist sprayer utilizes a two-cycle gas engine. The suction draws the shower arrangement from a little (generally 3-gallon) poly tank into an air stream made by a blower. The fog is then blown through an application hose with a spout toward the end. Be cautious about getting the spray residue on high-risk surfaces.