The flexible PVC garden hose is made of high-density polyvinyl chloride material. It is made of flexible, drainable PVC garden hose made of PVC material with high density, high strength, and non-crystalline structure. It adopts the use of polyester fiber reinforced design, which is characterized by wear resistance, high temperature resistance, and radiation resistance. It fully demonstrates the strong and stable drainage ability of garden hose in the outdoors, making PVC garden hose a "darling" in our lives. . At the same time, its burst pressure reached 24bar, which greatly increased its compressive strength. There are many sizes of this product such as 1/4″, 3/8″, 1/2″, 5/8″, 1″, 3/4″. PVC garden hose is not only flexible, but also in any narrow space, it will not It is distorted and damaged and its color is bright and beautiful.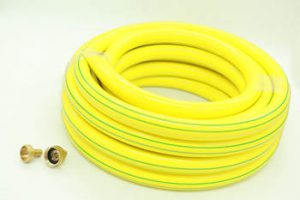 Flexible drainage PVC garden hose Application range:
Garden projects: Roof gardens, football fields, golf courses, bathing projects.
Water conservancy project: Water seepage prevention, reservoir and artificial lake water seepage prevention.
Home cleaning.