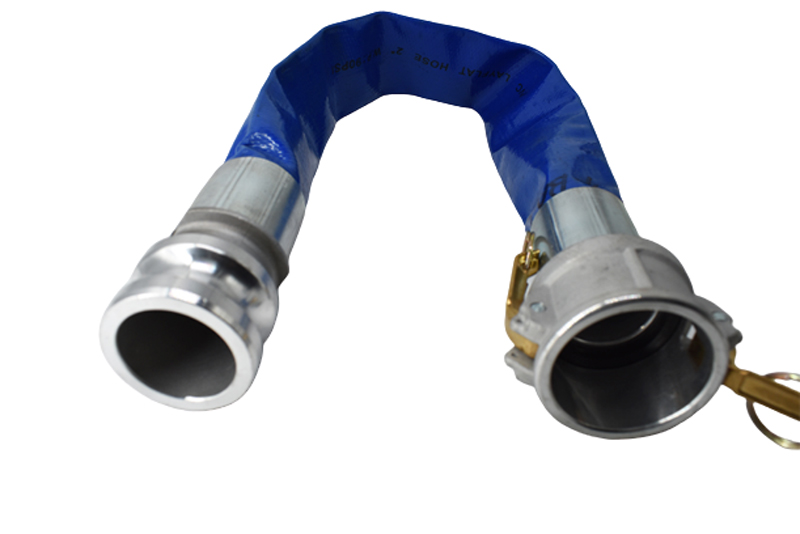 Remove the lay flat hose fitting bound with hose hoop. When re inserting, pay attention to insert the outer ring of the buckle first, and then the inner ring.
Take a section of iron wire, fix it at a firm point at one end, and pay attention to binding tightly. The other end is L-shaped, and put it on the hose fitting.
Hold the hose tightly with both hands and wind it inward. When winding, make the iron wire wrap around the groove of the fitting, and try to wind it tightly, otherwise it is easy to collapse.
After winding the first section, fix it with L-shaped iron wire at the other end, and then continue winding the second section in the same way, and so on.
After winding all the wires, cut off the redundant wires and compact them in one direction.
Insert the snap ring of lay flat hose buckle, and push it into the groove of buckle with tools to fix the outer ring and inner ring.
Finally, the protective sleeve is well covered to prevent wear and prolong service life.
Matters Needing Attention:
1. The iron wire should be fixed on the firm building to prevent the building from being damaged by force.
2. The L-shaped end should be slightly higher than the fitting of the PVC lay flat hose, so as to facilitate the fixation at the back. If it is too short, the back may not be fixed.
3. When winding, be sure to use force, each circle should be tightly wound, otherwise it is easy to break free.
4. When winding, touch the groove of the buckle with your hand, and each section should be wrapped in the groove.
5. The wire should be flat as far as possible to prevent abrasion of lay flat hose and injury during use.