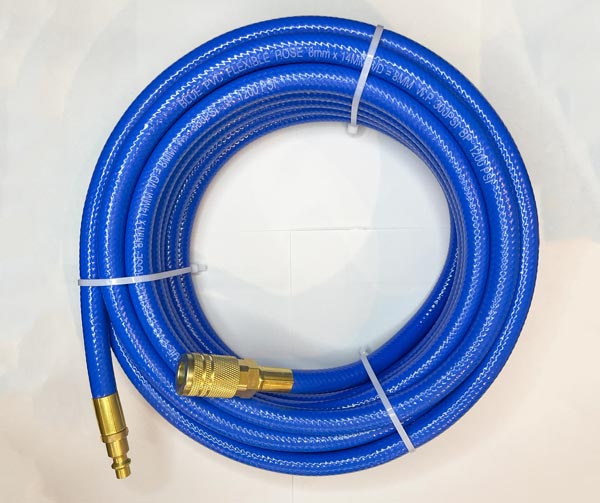 In today's fast-paced industries, maximizing efficiency and productivity is crucial for staying competitive. In this article, we explore how Goldsione PVC Air Hose can contribute to enhancing efficiency in your work. From its lightweight design to its compatibility with various pneumatic tools, we will highlight the key aspects that make Goldsione PVC Air Hose a valuable asset. Additionally, we will discuss why choosing Goldsione PVC Air Hose manufacturer and Supplier ensures optimal performance and reliability.
Lightweight and Easy Handling
The PVC Air Hose is designed with a lightweight construction, making it easy to handle and maneuver. This feature significantly reduces operator fatigue, allowing for prolonged and comfortable use. Whether you're working in construction, manufacturing, or other industries, the lightweight nature of Goldsione PVC Air Hose enhances overall productivity and efficiency.
Wide Compatibility
Goldsione PVC Air Hose is compatible with a wide range of pneumatic tools, making it a versatile choice for various applications. Whether you're using air-powered drills, impact wrenches, nail guns, or paint sprayers, Goldsione PVC Air Hose can reliably deliver the necessary air pressure for optimal tool performance. This compatibility eliminates the need for multiple hoses, streamlining your operations and increasing productivity.
Easy Connections
Time is of the essence in any work environment. Goldsione PVC Air Hose features user-friendly connectors that enable quick and secure connections with pneumatic devices. The hassle-free setup saves valuable time, allowing you to focus on your tasks without unnecessary delays. By reducing setup time, Goldsione PVC Air Hose contributes to improved efficiency and increased productivity in your work.
Goldsione PVC Air Hose is a reliable solution that enhances efficiency and productivity in your work. Its lightweight design, compatibility with pneumatic tools, and quick connections all contribute to streamlining operations and reducing downtime. By choosing Goldsione PVC Air Hose supplier and manufacturer, you can rely on our expertise and commitment to quality, ensuring that you receive a high-performing product.
Equip yourself with Goldsione PVC Air Hose and experience the efficiency and productivity gains it brings to your work.
Email: sales@goldsione.com
WhatsApp/wechat:+86 13780871071