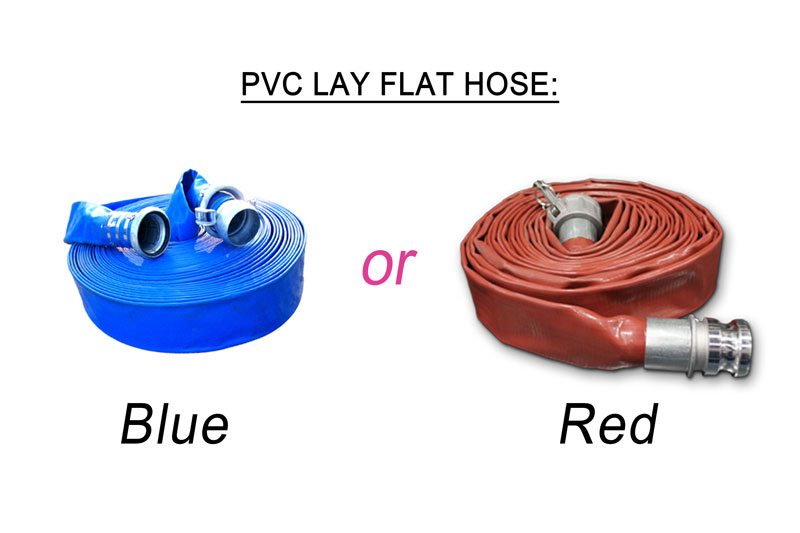 Due to its flexibility and ability to roll flat, PVC Lay flat hose is perfect for use in construction and agriculture. It has the functionality, is simple to set up, and is simple to store.
PVC Lay Flat Hose is excellent for drip irrigation and momentary water discharge applications. You should not bury it underground. If necessary, the flat PVC Hose can be quickly repaired on the spot or in the field.
PVC lay flat hose can be simply fitted with a barbed hose fitting, which can then be clamped in place. Just cut the hose, insert the barbed end, and secure it with the hose clamp.
Blue or Red PVC lay flat hose
Blue and Red PVC lay flat hose are available for purchase at Goldsione. The blue hose is a PVC drip irrigation hose with multiple uses. A heavy-duty PVC water discharge hose may be seen in the red color.
The delivery of water to gardens or for agricultural irrigation frequently uses blue hoses. The red hoses, on the other hand, are more frequently used in industrial settings.
Blue PVC Lay Flat Hose
For usage as a drip irrigation supply line, the blue PVC lay flat hose from Goldsione is perfect. Low friction loss is provided by its smooth tube. Due to its appealing pricing, the blue PVC lay flat is Goldsione's most popular lay flat hose. Another factor making it perfect for drip irrigation delivery is its versatility. It is produced in China and has numerous applications.
The blue hose when used for drip irrigation, PVC lay flat discharge hose can be readily punched without tearing. It's a cost-effective option for PVC lay flat hose used on farms. Additionally, it incorporates UV inhibitors that lessen weather checking and cracking.
Red PVC Lay Flat Hose
The red PVC lay flat hose is great for construction and mining locations where heavy machinery might be utilized, as well as general irrigation and as a drip irrigation supply line for farmers of vegetables. mostly to dewater (moving water from one spot to another).
The PVC-reinforced synthetic fiber used to make the red PVC lay flat hose has a UV-resistant cover.
The pressure rating of the hose is often indicated by the colors. We often create low-pressure hoses in blue and high-pressure hoses in reddish-brown, which can be priced per meter or per kilogram.
Fortunately, at Goldsione, you can completely customize the pressure and color to your liking. You can browse more PVC lay flat hose or feel free to contact us if you have any questions or inquiries.