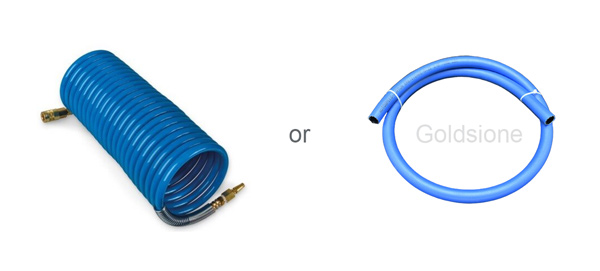 A hose may be a hose, isn't it? Well, from our experience at GOLDSIONE, we might say no – not necessarily. Choosing the proper PVC air hose also involves the selection of a typical, straight hose or a curly, recoil one.
Standard hoses lie flat, without coils or bends, but they will get kinks in them which reduce or stop the air supply. On the opposite hand, they're easy to handle, offer no resistance, and maybe gathered up into loops for storage or mounted on a hose reel. Curly or recoil hoses are like old-fashioned telephone cables, with tons of small, regular coils making them seem much shorter than they are.
These coils are highly tensile, and spring back in situ after use, as they're designed with a memory. they're easy to store and to stay out of the way when not in use, but they provide resistance and need some strength to stretch them out, particularly if they're long or have an outsized l/min.