Fogging Misting Machine-Single Valve Terms
MOQ: 15 sets
Supply ability: 3000 pieces per week
Delivery Time: 10 days after receipt of deposit
Port of loading: Qingdao
Paying Terms: by irrevocable letter of credit, or TT 30% payment in advance, 70% upon products completion.
Fogging Misting Machine-Single Valve Details
Brand : Goldsione
Place of Origin: Shandong, China (Mainland)
Product name: Sprayer Machine
Name: GWD-100A Single valve
Material: Metal
Sprayer Type: Knapsack
Nozzle: Stainless Steel Misting Nozzle
Application: Garden and agriculture
Power Source: gasoline engine
Fuel tank capacity: 2 liters
Kit capacity: 15 liters
Color: silver and golden
Package: Being packaged by carton box
 
Characteristics:
The machine is powered by pulsed jet engines, producing spiral vibrating air, breaking the liquid in the nozzle instantly, nebulizing into water mist with particle size greater than or equal to 0.5 microns, and rapidly spreading into the air, with high penetrability and adhesion; so as to achieve the control efficiency of sterilization, insecticide, and disinfection.
Applications:
1.A variety of fruit trees pest control.
2.Forest trees, garden pest control.
3.Greenhouse pests and diseases prevention and control of crops, and greenhouse temperature in the cold weather.
4.Cotton, rice, wheat, corn and other field crops pest control.
5.Locust disaster, plague, health and epidemic prevention, urban sewers, basements, shelters, sterilization of the warehouse disinfection.
6.Hospitals, docks, cinemas and schools and other public places sanitation and disinfection.
7.Disinfection of breeding sites.
8.Various places of flies, mosquitoes, antivirus and so on.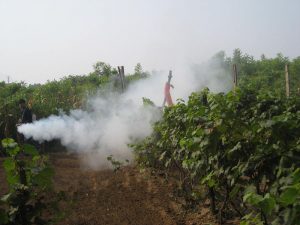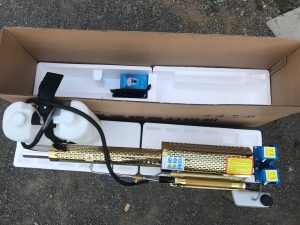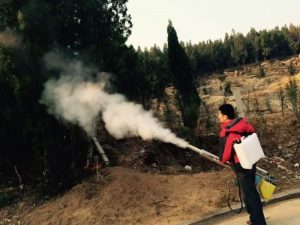 Fogging Misting Machine-Single Valve Application of video:


 
Technical-parameters-of-Fogging Misting Machine-Single Valve